Session Border Controller
Dinstar SBC300 are designed to deliver security, interoperability and transcoding between SMB and service providers' VoIP networks. SBC300 help SME easily access to service providers' SIP trunks / telecom operators IMS with high-level security,meanwhile perform SIP mediation and audio transcoding. Scaling from 5 to 50 SIP sessions, SBC300 always meet SME demands today and in the future with only small investment.
Dinstar SBC300 provides rich SIP-based services such as safe network access, robust security, system interworking, flexible session routing & policy management, QoS, media transcoding and media processing for small-and-medium telecommunication operators. With distributed multi-core processor, rear panel for non-blocking gigabit switching data network, embedded Linux operating system, SBC300 delivers high capability while achieves low power dissipation. It supports 50 concurrent SIP sessions and transcodes up to 50 concurrent calls, and allows encrypted sessions via TLS and SRTP.
Features
Supports up to 50 SIP sessions and 50 transcoding sessions
SIP trunks & flexible routing rules for accessing IMS
Embedded VoIP firewall, prevention of DoS and DDos attacks
Bandwidth limitation and dynamic white list & black list
QoS, static route, NAT traversal
Import & export of remote upgrade and configuration data
Encrypted sessions
User-friendly web interface, multiple management ways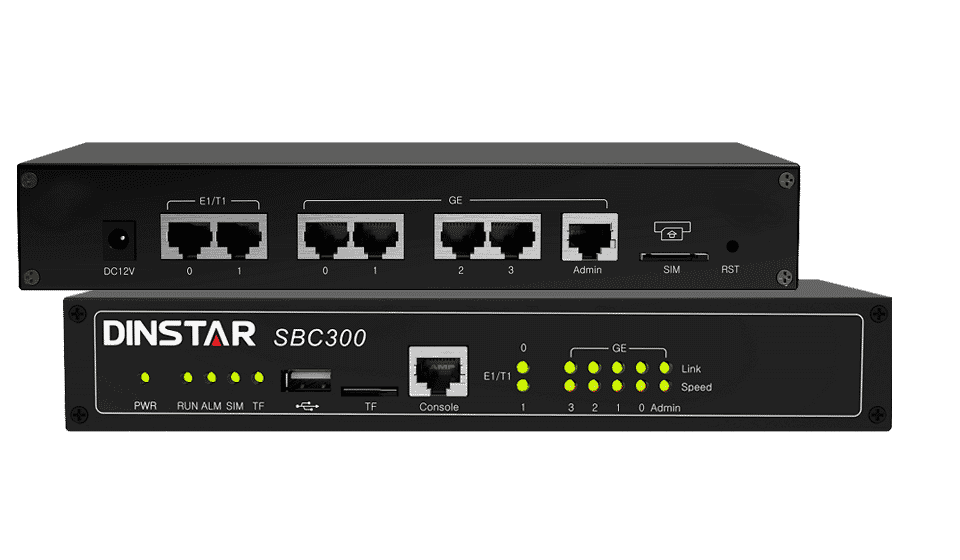 For the product quotation please fill the given form our team will get back to you shortly after analysing your needs