Vega VoIP Analog Gateways
Sangoma's Vega 60 FXS VoIP Analog Gateways are available in a 4-port or 8-port analog FXS appliance supporting up to 8 simultaneous calls.
The Vega 60G Media Gateway is designed to simplify the integration of analog phone systems or Basic Rate ISDN (BRI) devices to a VoIP network. It supports up to 8 analog ports, or up to 4 BRI lines.
Features
Supports SIP, T.38 fax and modems
WebGUI for configuration and troubleshooting, featuring Quick Wizard for rapid deployment
Built-in DSP for media translation
Automated Confifiguration with TR-069
Interoperable with most legacy and VoIP carriers worldwide
Advanced flexible call routing with automatic failover and bypass routing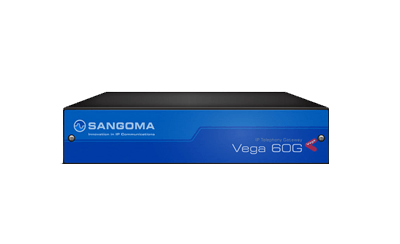 For the product quotation please fill the given form our team will get back to you shortly after analysing your needs