SBC Virtual Machine Software – VoIP Security at its Best
As the demand for virtualized infrastructures increases, the Sangoma SBC Virtual Machine is the perfect solution for Enterprises and Carriers who need VoIP security as well as transcoding benefits, while keeping their existing hardware. The virtual Machine edition of our award-winning SBC offers the same rich functionality as that of our hardware-based SBCs but is 100% software. This means no additional power, space or cabling requirements to implement. Sangoma Enterprise SBC Virtual Machine is designed to work in leading edge virtualization platforms, including VMware, Hyper-V, KVM and Amazon Web Services. It is also compatible with most commercially available motherboards and servers so that you can install the software directly to bare metal too!
The Enterprise Virtual Machine SBC is field-upgradable to 4000 simultaneous calls and with built-in redundancy this makes the Sangoma SBC Virtual Machine the most cost-effective flexible solution with unmatched reliability. An advanced webGUI is used for configuration, monitoring and troubleshooting.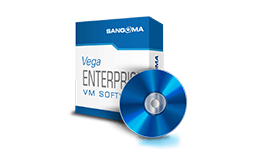 Support Up to 1000 Simultaneous Calls